The cast of 'Muzaffarnagar-The Burning Love' promoted their film in Nation's Capital!
Based on a real incident happened in Muzaffarnagar during Riots of 2013, 'Muzaffarnagar-The Burning Love' is an upcoming Bollywood Hindi Crime, Drama, Fiction entertainment movie. Well, the entire cast of the movie was recently in Delhi for the promotion of their sensitive project. The team included the leads of the film Dev Sharma, Aishwarya Dewan, Mursaleen Qureshi, Harish Kumar (Director) and Vijay Bhardwaj (Ex Producer).
While interacting with media at the press conference held in PVR Plaza CP, the entire team shared their views and thoughts. They narrated the uniqueness of their latest release.
Director of the film Harish Kumar said, "This film is based on an accident in Muzaffarnagar 2013, it is the emotional story of the love of two hearts between violent incidents, which would be an important factor for the audience, based on the 2013 riots. The message of the movie is essential, there is a little fight, and otherwise, the violence is not shown in the film.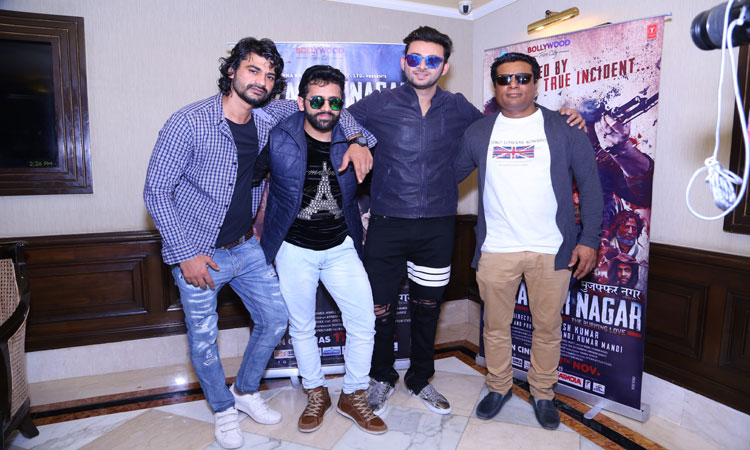 This film will force the viewer to think. The film's producer Manoj Kumar Mandi himself is a resident of Muzaffarnagar and was present at the time of the riots, so he has seen much of his eyes, which helped him write the story of this film. "
Well, 'Muzaffarnagar-The Burning Love' stars Dev Sharma, Aishwarya Deewan, Ekshash Bharadwaj, Anil George, Mursaleen Qureshi, Sandeep Bose and Ravi Khanna in the cast. Under the banner of 'Morna Entertainment Private Limited', music by Manoj Nayan, Rahul Bhatt and Faraz Ahmed.  After the relentless hard work of one and a half years, 'Muzaffarnagar-The Burning Love' is slated to release on 17th November 2017.