Tackling drug-problem amongst Punjab youth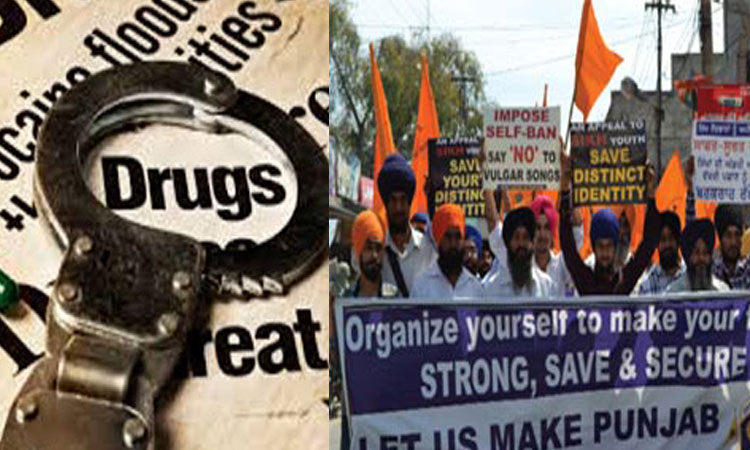 It is a common knowledge that Punjab is presently facing its biggest threat when Pakistan has been instrumental to make Punjab youth drug-addicted, so that the bordering Indian state may no longer have a dedicated youth-force to rise to occasion at need of hour like war-time. Brave Punjabi youth were amongst the main factors of India winning Indo-Pak wars in the years 1965 and 1971. Lack of proper employment opportunities has also resulted in large-scale migration of Punjabi youth to other countries. Sikhs by nature is a warrior-community, and thus constitute a major portion in Indian army. Proper utilisation of Sikh-youth for being trained to be absorbed in Indian army will effectively tackle serious problem of their being drug-addicted or being migrated out of India, apart from providing a brave-front at Indo-Pak border at Punjab.
Union government should set up Army schools and units of National Defence Academy in plenty in Punjab, so that Punjabi youth may join army at an early stage thus blocking all chances of their being drug-addicted at later stage. A long-term strategy in this regard can also result in tackling Kashmir-problem at a later stage through well-trained Punjabi youth. Rather there should be a national policy to set up Army schools and units of National Defence Academy in plenty in all the bordering states, also to utilise retired army-personnel set up in their home-states as stand-by at war-time. So many rich families with root-base in Punjab are presently Non-Resident-Indians (NRIs) settled in other countries. These NRIs can be motivated to open schools aimed at promoting games in their native state of Punjab. It will give Punjabi youth an additional opportunity to make India shine at world's sports' map, which unfortunately is a neglected field when world's second-largest populated country ranks amongst the lowest ones at Olympics.