Jaya Jaitly, Founder of ​Dastkari Haat ​Samiti brings the 32nd Annual Dastkari Haat Craft Bazaar ​the fortnight extravagant exhibition of art, textile and culture​ at Dilli Haat from 1st – 15th January 2018
Com​ing​ January 1, art enthusiasts will get to see a mélange of colorful and traditional handicrafts, textiles and classical dance performances as artistes from India and Israel will come together to showcase their cultural legacy​​ while cementing cultural and diplomatic ties—a vision seen by Prime Minister Narendra Modi during his recent visit to Israel.
The 32nd edition of the annual ​craft bazaar which will take place at Dilli Haat, will witness ​the ​participation of around 200 artisans from different states assuring a peek into the myriad art and craft traditions.
For this year, Dastkari Haat Samiti has collaborated with Ministry of Textiles to create an interactive platform where local artisans from India and Israel will exchange their skills and art while creating intricate art pieces that are significant of artistic legacy which both the countries are known for.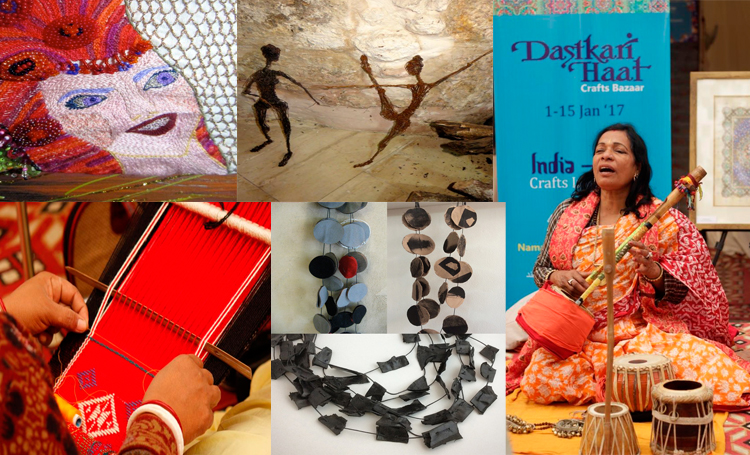 Five craft persons from Israel will work with their Indian counterparts from Jammu and Kashmir, Bihar, Delhi, Chhattisgarh and Rajasthan to create two completely new art pieces each combining common understandings and skills in entirely new designs under the guidance of two Indian designers.​ ​The Israel-India workshop which will be held between January 2- 14 will showcase fresh art pieces to the public. During the workshop, art connoisseurs will also get a chance to interact with artisans and watch their work in progress.
​"This festival is a unique platform where our craftspeople get to interact and share their skills with their foreign counterparts. Our vision is to bring back the original essence of Dilli Haat where only those artisans who don't get to display their work ​in New Delhi could showcase their work exclusively ," ​says ​Jaya Jaitly, ​F​ounder of Dastkari Haat Samiti.
The ​15 day Dastkari ​Haat ​Craft ​Baz​a​ar will showcase a mix-bag of art pieces which will be created with finesse by Israeli artists​ ​in different art forms—papier machie by Vered Otmy, patchwork by Orna Shahar, embroidery in textile by Sassona Schits , paper cutwork by Janine Golbert and wire mesh by Nihad Dabeet.
The bazaar will also touch upon the important aspects of the craft producers' life by showcasing myriad cultural performances including folk music from Rajasthan, the exotic tribal martial Chhau dance​rs who will be dancing as well as demonstrating the mask making​ from West Bengal, the mesmerizing 'Pinguli Art'- a unique style of painting that incorporates storytelling from Maharashtra, traditional weaving and singing performances from Gujarat and soulful flute renditions by a Varanasi flute player who will be willing to teach to the interested viewers.
The ​annual bazaar ​cites to serve as a platform that provides unique inputs to the crafts sector while creating employment opportunities for local artisans.
The ​decor of Dilli Haat will replicate the unique pap​i​er machie art created by ​acclaimed folk artist from Chhattisgarh, Sundari Bai.
​​